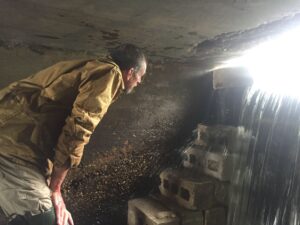 PRESS RELEASE
FOR IMMEDIATE RELEASE
April 23, 2021
Contact: Mike Bottini, Wildlife Biologist – 631-278-5601, mbottini@seatuck.org
River Otters continue to expand distribution on Long Island; "Otter Stairway" mitigation experiment completed.
ISLIP, NY: Seatuck's Long Island River Otter Project team documented the expansion of the river otter's distribution on Long Island, with two new sites verified on south shore watersheds: the Carmans River (Brookhaven) and Little Seatuck Creek (Eastport). Their distribution on the island was centered on the north shore and the Peconic Estuary until 2020, when two otters were photographed on the Connetquot River. Because river otters need clean water and an abundance of fish to thrive, their increasing population is a positive sign and an important indicator of the health of our wetlands and surrounding habitat. 
Once common on Long Island's fresh and saltwater creeks, bays and ponds, unregulated fur trapping, water pollution and habitat loss dramatically depleted river otter populations throughout their range in North America and here on Long Island in the 1800s. Subsequent conservation laws enabled their recovery, which has been slow but steady.
"The resurgence of our native river otter population is great news for our environment and speaks to the power of effective conservation strategies," said Seatuck Executive Director Enrico Nardone. "As a leader in Long Island wildlife conservation, Seatuck is committed to working to monitor, protect and preserve these delightfully charismatic creatures."
Mike Bottini, Seatuck wildlife biologist, has been tracking and studying river otters on Long Island since 2008. "Long Island's highly fragmented and developed landscape poses a challenge for otter recolonization in the form of roadkills where otters are forced out of the water and onto roads in order to travel around dams." A recent river otter roadkill incident in Eastport prompted Seatuck, with the help of Brookhaven Town staff, to construct a simple concrete block "stairway" for the otters to pass over the dam safely, avoiding the street above.  Bottini said, "It's just one small solution in one area but as their population increases, we will need to find better and longer-lasting strategies to mitigate these occurrences." 
To engage the community and increase their monitoring capacity, Seatuck is partnering with Long Island Sound Study, New York Sea Grant, South Shore Estuary Reserve, and Peconic Estuary Partnership in an effort to train "community science volunteers" to locate and monitor river otter populations. The results will be used to track their range, access the health of their habitat and prioritize areas for future restoration and protection. 
Monitoring wildlife and its habitat and engaging community scientists are critical components of Seatuck's work on Long Island. More information on these efforts can be found at Seatuck.org.
River Otters continue to expand distribution on Long Island; "Otter Stairway" mitigation experiment completed.