In September 2019, in a widely reported article appearing in Science magazine, researchers documented a significant decline in the overall abundance of birds in North America. Studies showed a 29% reduction birds since 1970, totaling approximately 3 billion birds. Some bird groups – such as grassland birds – have declined even more precipitously, dropping by more than half. 
Seatuck engages in local, state and federal efforts to help address threats to birds and bird habitat on Long Island. Our current work is focused on three major initiatives (which are detailed below): 1) The South Shore Re-Tern Project, which aims to safeguard seabird nesting colonies on the South Shore, 2) reducing the high number of birds killed from window strikes, and 3) protecting significant bird habitats in the region, including Montauk Point and the Calverton Grasslands (click here for more information). 
We also contribute to the understanding of bird populations on Long Island by conducting various bird surveys, both through contractual monitoring and by participating in multiple citizen science projects (including the annual Seatuck Birding Challenge).
I.  South Shore Re-Tern Project
At one time, the South Shore of Long Island teemed with seabirds throughout the summer, as terns, gulls, skimmers and other species used the region's barrier island beaches, bay islands and salt marshes as nesting grounds. Unfortunately, most of these species have suffered dramatic losses on the East Coast as human development has impacted the availability and quality of their nesting habitat. Even common terns, which were once very abundant (as their name implies), have declined by more than 75% since coast-wide surveys began in the late 1970s. On Long Island, nesting sites have been lost to the development of marshes, the heavy use of ocean beaches and high traffic of people, boats and personal water-crafts (e.g. jet skis) on and around bay islands.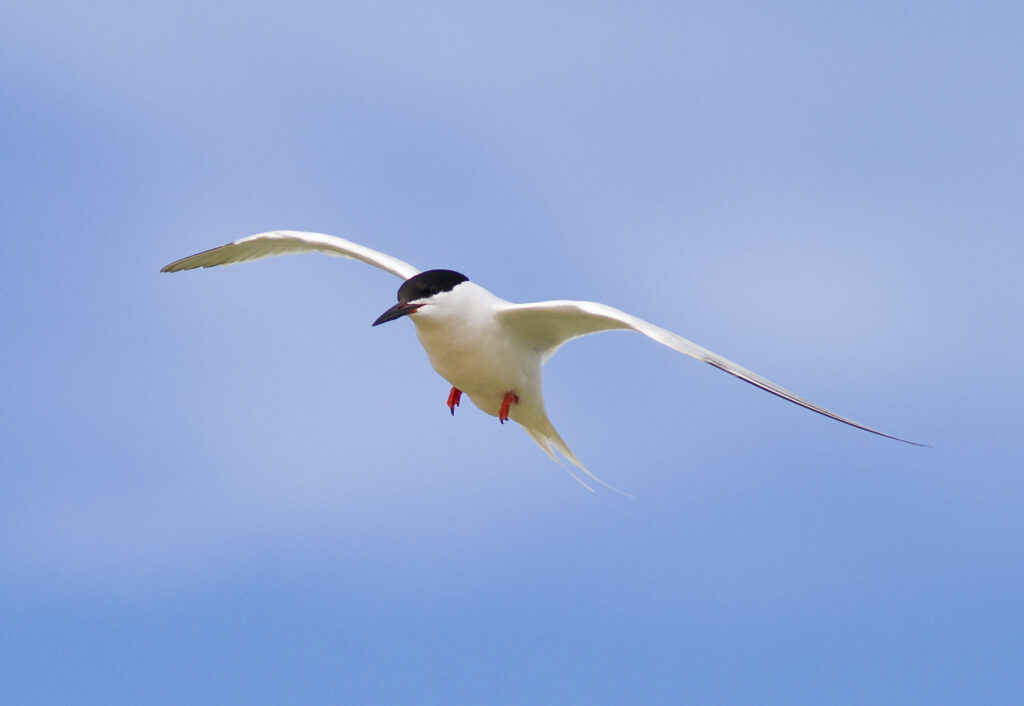 Nevertheless, there are enough of these species hanging on in our region that they still remain, for many, an integral part of life near the water. This is especially true about terns: with their sleek, effortless flight and dramatic dives into the water to catch fish, they are an iconic part of the Great South Bay and embayments across Long Island. However, the future of terns and other species that nest near the water is not bright. With sea levels rising, many of these species will be even more at risk on Long Island as high tides and storms increasingly put their nests and chicks at risk of being flooded.
The good news is that there are ways to help these birds. Over the past two decades, efforts up and down the coast (and across the globe) have helped terns and similar species by creating new habitats and restoring and recolonizing previously occupied sites. Studies have proven that small-scale breeding habitat creation or restoration projects can play a valuable role in contributing to a network of breeding sites.
Seatuck is undertaking a long-term effort to reestablish and safeguard nesting sites on the South Shore of Long Island. This project, titled the "South Shore Re-Tern Project," will initially focus on roseate terns, but will eventually grow to include other terns and similar nesting species, such as black skimmers. While roseate tern breeding haven't been confirmed on the South Shore in many years, they are regularly reported in the area, even during breeding season, and experts are cautiously optimistic that breeding colonies could be reestablished. 
The South Shore Re-Tern Project aims to re-establish and safeguard critical nesting sites for tern species. This work will include,
mapping historical, current, and potential nesting habitat for beach-nesting birds
conducting surveys for priority tern species at targeted sites
collaborating with experts to learn how we can protect and/or re-establish suitable nesting sites for seabird populations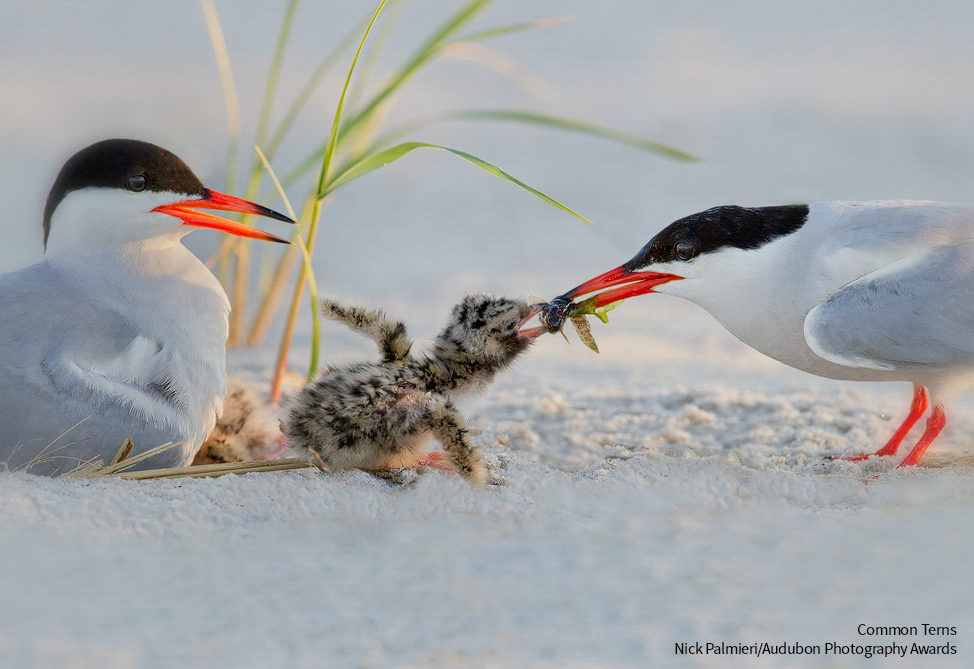 II.  Window Strikes
Birds face a number of threats as they go about their daily lives. From birds-of-prey, like Great Horned Owls and Cooper's Hawks, to a host of mammals and snakes, they must be ever-vigilant! They also face numerous threats from humans, including most significantly, habitat loss, but also poisoning, wind turbines, power lines and climate change. Another, less well known, threat is the risk of death from flying into highly reflective or transparent windows. In fact, behind domestic and feral cats, window strikes are the second-leading cause of bird mortality. It has recently been estimated that between 365 to 988 million birds die each year in the United States from hitting windows. That's at least one million birds every day! 
In 2018, Seatuck launched an initiative to reduce the number of bird window deaths on Long Island. Our work seeks to address the issue in three ways: Changes to state level laws and regulations, inclusion of bird-friendly design in new construction, and modifications to existing buildings to address problematic windows.

State Level
Working with state lawmakers and key bird conservation groups (American Bird Conservancy, NYC Audubon and NYS Audubon) to advance state legislation mandating bird friendly windows in new construction, and to provide financial incentives and state environmental funds to retrofit existing problematic buildings. 
In 2019, we were successful in passing legislation through the Assembly and Senate that would have created a Bird-Friendly Building Council to consider and recommend statewide measures, such as requiring bird-friendly windows in new construction. While the Governor vetoed the bill, we're pushing to make sure it's not the end of the conversation. We're currently working with state lawmakers to develop a new comprehensive statewide bill to respond to the problem to be introduced in the 2021 state legislative session.  
New Construction
Commenting on specific development proposals and pushing for the inclusion of bird-friendly windows. Over the past year we have pushed for changes to the design of the proposed new entertainment venue at Belmont Race Track, and were successful in getting commitments for bird-friendly design for the new nature centers at Jones Beach and Hempstead Lakes State Parks.
Existing Buildings
Consulting with building managers and owners on steps they can take to reduce bird strikes at existing buildings, including replacing existing glass, or installing films or stickers that help birds see windows. 
Following our 2019 testimony on bird window collisions in the New York State Assembly's hearing on the environmental impact of the State University system, we have also opened a dialogue with SUNY Stony Brook to further reduce bird mortality on their campus. This will build up our work to  help install 2,200 decals on buildings at university's South Campus, where bird strikes were a common occurrence, and the "Bird Friendly Building Design" conference we co-hosted on campus to generate public awareness. 
We have also worked closely with Northwell Health and the Unitarian Universalist Congregation of Shelter Rock, among others, to install UV-reflective stickers to address bird collisions issues in window-heavy buildings.
Want to learn more?  John Turner, Seatuck Senior Conservation Policy Advocate, is available for presentations on the window strike issue. His informative and inspiring talk, is titled "Reflections on a Transparent Problem: Window/Bird Collisions." Contact staff@seatuck.org for more information.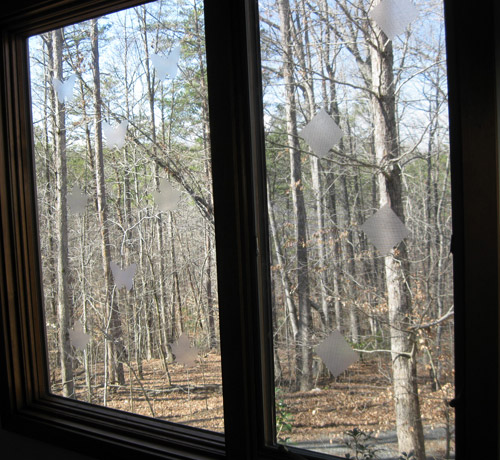 III.  Montauk Shoals
Seatuck is leading an effort to protect one of the most significant wildlife areas on Long Island: the shoals at Montauk Point. This area, a "backwards C" that brackets Montauk Point, consists of largely shallow waters (less than 60 feet in depth) that are exposed to the open ocean. This unique setting, which is particularly ideal for mussels and kelp, results in a highly productive region that supports a vast diversity of fish, waterfowl, pelagic birds, marine mammals and sea turtles.
Each winter, the area hosts the largest gathering of wildlife on Long Island when tens of thousands of "sea ducks" arrive to spend the season. The ducks, which include vast rafts of scoters and eiders, arrive from points north and west seeking feeding grounds that are not frozen over. This vast assemblage of wintering birds is the specific focus of Seatuck's recent conservation effort.
Seatuck, under the leadership of John Turner, is advocating that the State of New York designate the Montauk Point Shoals as a new Bird Conservation Area (BCA). The New York State Bird Conservation Area Program was established in 1997 to safeguard and enhance bird populations and their habitats on State lands and waters. The goal of the program is to integrate bird conservation interests into state planning, management and research projects. According to the Department of Conservation, which administers the BCA program, the focus of the BCA Program is to provide a basis for the establishment of model stewardship programs for bird conservation on state lands. Designation of a BCA will not affect existing recreational activities. It will result in better opportunities to view birds, and improved information to explain why this area is important for birds. Current hunting regulations will not be altered as a result of the BCA Program.
The proposed area would extends to the three mile boundary between state and federal waters; on the north side of the Point, involving the far eastern reach of Peconic Bay, the BCA would run as far west as the eastern jetty to Montauk Harbor and on the south side of the Point, involving the Atlantic ocean side, it would run as far west as the western boundary of Shadmoor State Park. This region is the northernmost point of the New York Bight, which extends south to the Cape May Inlet in New Jersey.
The NYS Environmental Conservation Law allows the state to designate a new BCAs under various conditions, including 1) sites that host waterfowl concentrations (at least 2,000 birds), 2) regularly supports birds of open water (at least 100 birds), or 3) sites that relate to species at risk, Seatuck has argued that the Montauk Point Shoals qualify on all three of these criteria.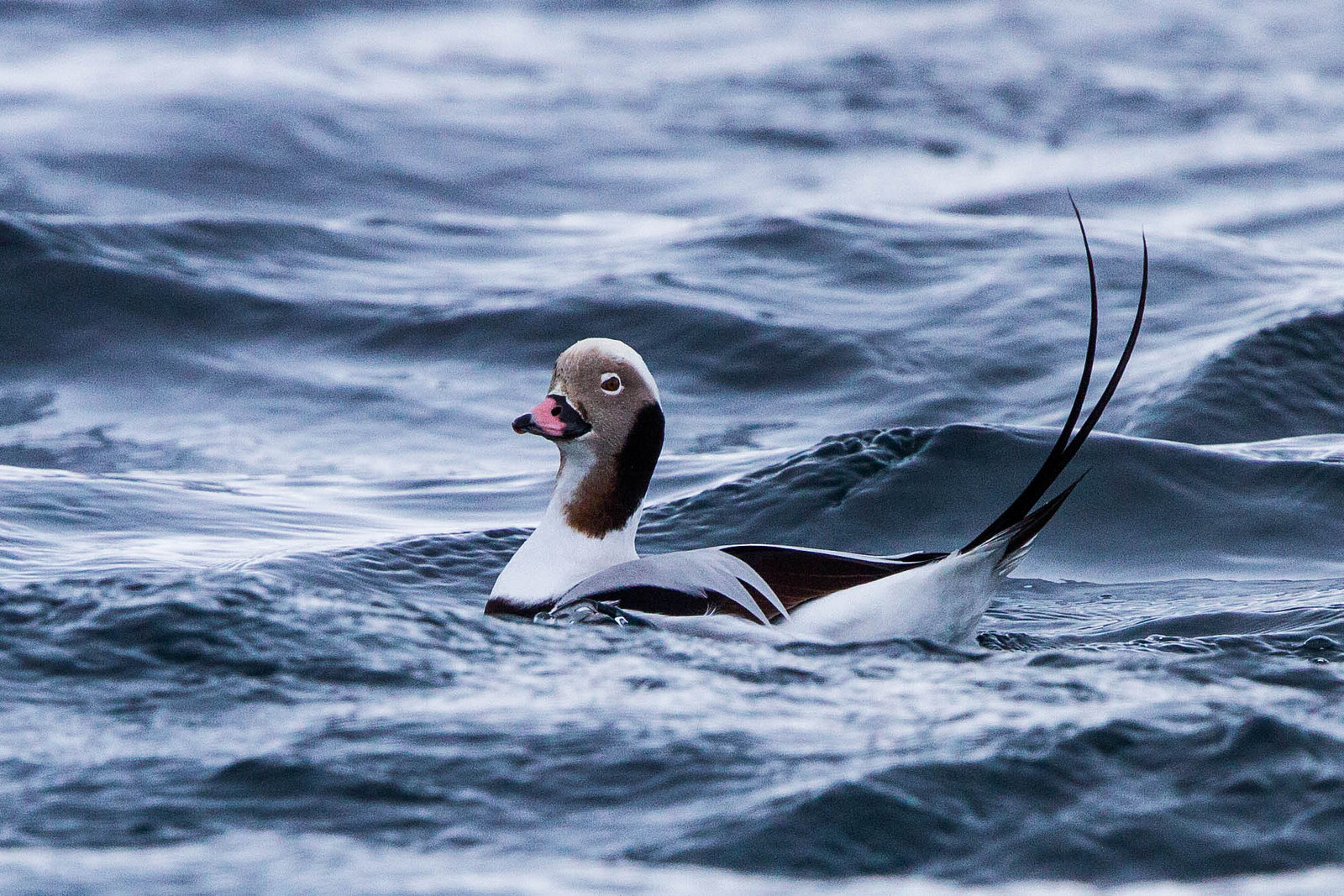 Waterfowl Concentrations
The coastal waters around Montauk Point regularly support large flocks of sea ducks, especially during the winter months. Indeed, winter sea duck concentrations around Montauk Point are the largest in New York State, regularly numbering in the tens of thousands. These species include White-winged Scoter (Melanitta fusca), Black Scoter (Melanitta nigra), Surf Scoter (Melanitta perspicillata), Common Eider (Somateria mollissima), King Eider (Somateria spectabilis), Long-tailed Duck (Clangula hyemalis), Red-breasted Merganser (Mergus serrator), and Common Goldeneye (Bucephala clangula). With the exception of the merganser species these sea ducks feed primarily on the extensive beds of blue mussel (Mytilis edulis) throughout the Montauk Shoals area. The Red-breasted Merganser feeds on small fish such as Atlantic silversides (Menidia menidia). In addition to these waterfowl species Montauk Point also supports large numbers of Common Loon (Gavia immer), Red-throated Loon (Gavia stellata), and Horned Grebes (Podiceps auritus). They feed on a variety of small fish such as Atlantic croaker and Atlantic silversides during the winter months, also qualifying the site as a BCA under the "waterfowl concentration site" criteria.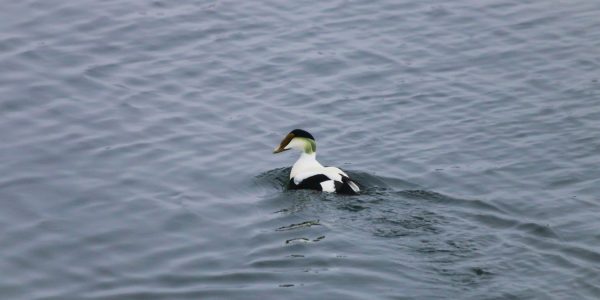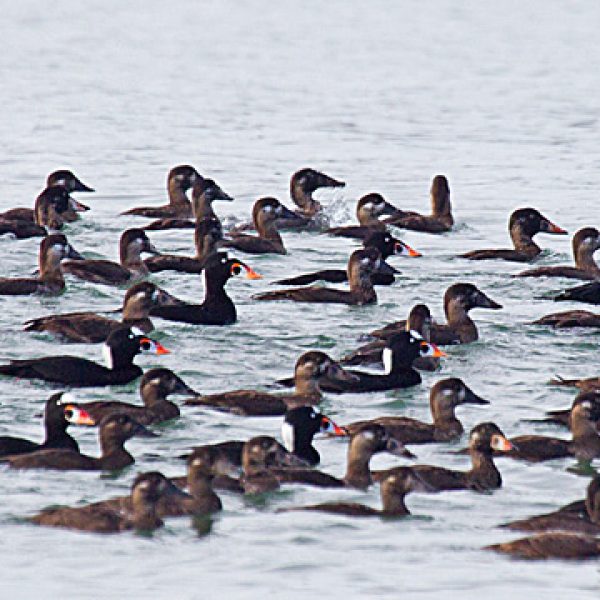 Pelagic Seabirds
Montauk Point also supports notable populations of gannet and alcid species. Northern Gannet (Sula bassana), and, in some years, various alcid species, including, most notably Razorbills (Alca torda) occur here in significant numbers, qualifying the site as a BCA under the "pelagic seabird site" criteria. These species are typically observed further from shore and thus tend to dive for various fish species as a feeding mechanism rather than feeding on shellfish. According to Bull's Birds of New York State, the: "Northern Gannet is most numerous at Montauk mid-fall through early winter. During this peak period, 2000–5000 may be observed feeding off the point. They are undoubtedly working the rich waters between the point and Block Island, RI. Traveling in a somewhat circular fashion, they plunge-dive into baitfish schools in the strong currents before the group moves on en masse."
Species-at-Risk
Lastly, the waters around the Point provide important foraging habitat for Common Tern (Sterna hirundo), a species classified as Threatened in New York State, and Roseate Tern (Sterna dougallii), a federally endangered species during the breeding season. These birds nest primarily on Great Gull Island, situated off the North Fork and forage for fish in the open waters.  The presence of these species qualifies the site as a BCA under the "species at risk site." These two species are present from late spring to early fall. According to Bull's Birds of New York State, the Roseate Tern is variously uncommon to locally abundant and the Common Tern is locally abundant. The documented presence of the Common Loon also supports the "species at risk" criteria, as it is designated by NYSDEC as a species of special concern.  Over the past 20 years, an average of more than 700 Common Loons have been documented each year at Montauk Point.
Potential Threats
As with many marine ecosystems, the Montauk Point Shoals are vulnerable to several anthropogenic activities. This includes exposure to nonpoint source pollution due to nutrient enrichment and sedimentation from development on the coast; recreational use of the area in the form of boating and fishing; and vulnerability to oil spills, contaminants, waste disposal, boat and ship traffic, and dredging activities. In a 1997 report titled "Significant Habitats and Habitat Complexes of the New York Bight Watershed", the U.S. Fish and Wildlife Service (FWS) specifically stated that the National Oceanic and Atmospheric Administration (NOAA) should consider the designation of these offshore waters at Montauk Point as a Marine Sanctuary. The U.S. FWS recognizes the area as an important buffer to winter storms and hurricanes that is extremely vulnerable to an oil spill, ship collision, or contaminant discharge.
Seatuck argued to the State that protection of this area is of the utmost importance, not only due to current threats, but potential or future threats as well. As the benefits of renewable energy become increasingly apparent, a shift away from fossil fuels and toward these new sources of energy is inevitable, and already evident in the construction of the five turbine, 30 megawatt "Deepwater Wind" project currently under construction off the south side of Block Island, approximately 12 miles to the east of Montauk Point. While this is an undoubtedly positive change, it also provides a potential threat to sensitive habitats. As off-shore wind turbines become a more highly utilized form of energy production, their location must be thoroughly considered before implementation due to the risk of habitat disturbance, especially off the coast of Montauk Point. The designation of the Montauk Point Shoals as a Bird Conservation Area would help to ensure that the significant bird populations utilizing the area are given adequate consideration in any renewable energy or economic development proposals that may be advanced within the area.
Photo credits:
Long-tailed Duck (c) Ron Knight 2014
Surf Scoters (c) Richard Mittleman 2013
Seatuck is always birdwatching! We host the annual Seatuck Long Island Birding Challenge, conduct bird surveys for public and private landowners, and participate in several regional, national and international birding efforts, including Project Feeder Watch and the Christmas Bird Count. Let us know at staff@seatuck.org if you'd like to join us!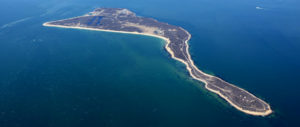 Plum Island, an 843-acre, federally-owned island off the tip of Long Island's North Fork, has been proposed for sale by the federal government. In addition to historical importance, Plum Island has great ecological and environmental significance. It contains the largest seal haul-out site in southern New England and provides habitat to 216 migratory, overwintering, and breeding birds (one-fourth the North American total of avifauna).
Learn More