River Revival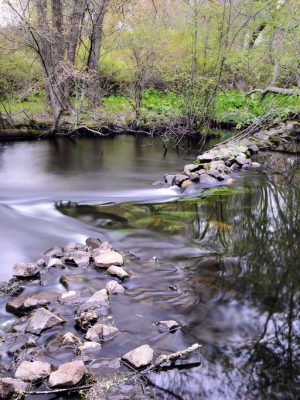 Reviving Long Island's Rivers & Streams
Seatuck's Long Island River Revival Project seeks to restore the ecological health of the region's coastal rivers and streams.
Long Island's abundant coastal waterways–a legacy of our glacial history–were once an important part of the island's coastal ecosystem. For thousands of years they provided a vital link between upland and marine habitats.
Unfortunately, the island's rivers and streams have been undervalued and mistreated for centuries. From historic impoundments for mills and ice to ever-encroaching development, our tributaries have been significantly degraded and their ecological functions severely compromised.
By reestablishing connectivity, improving habitat, and rebuilding populations of migratory fish, we can restore our tributaries to their proper role in the coastal ecosystem. In the process, we can reconnect communities with their local waterways.

Want to learn more? Click here to explore our Story Map

Jump to:
River Revival Map
The River Revival Project Map is a GIS-based map that identifies every river and stream in Nassau and Suffolk Counties. It shows where migratory fish have access, and where they don't. It also identifies the tributaries where river herring runs are known to exist, and shows all existing, planned or proposed connectivity projects on the island. The map is intended to be a tool to engage citizens in the restoration of rivers and streams in their own communities.
Diadromous Fish
An important role of coastal riverine systems is the habitat they provide for the unique fish that migrate between fresh and salt water. These species, known as diadromous fish (which means "running through"), play an ecologically critical role in transferring energy and nutrients between the ocean and our estuaries and uplands. On Long Island, they include Alewife and Blueback Herring (collectively known as river herring), as well as American Eel. River herring live most of their lives in the ocean, but swim to coastal streams to spawn. American Eel have the opposite life cycle: they live most of their lives in freshwater, but migrate to the ocean to spawn. Another species, Brook Trout (New York's State Fish), are considered semi-diadromous; they regularly move from freshwater streams into the estuary to feed, but not for reproductive reasons. Unfortunately, dams and culverts have broken riverine connectivity and restricted access to the freshwater habitat all these important species need.

LEARN MORE ABOUT DIADROMOUS FISH


Related Information