About the Horseshoe Crab Tracker
Horseshoe Crab Tracker is a community science project that engages Long Islanders in an effort to monitor and record the distribution of horseshoe crabs in our region. Participants are simply asked to report any horseshoe crab sightings through our data collection system. Reports can be submitted through the data form below or on a mobile device through the free Survey 1-2-3 app. 
Please contact Arielle Santos at asantos@seatuck.org or 631-581-6908 with any questions regarding the survey.
Accessing the Survey 1-2-3 Mobile Field App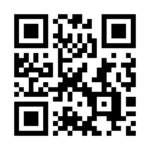 First, you must download the free Survey 123 mobile app on your mobile device
 Scan the QR code on the left using your phone's camera. If you are currently on your mobile device, click here to download the Horseshoe Crab Tracker survey and proceed with steps 4 & 5
 After scanning the QR code, click the top banner notification to open ArcGIS
 Choose "Open in the Survey 123 field app", and "Open this page in Survey 123"
 Choose "Continue without signing in"