Leanna Balestra – "Presence and Distribution of Microplastics in Beach Sediment along the South Shore of Long Island"
Microplastics are tiny bits of of plastic (<5mm diameter) that float in seawater then enter the food web to cause harm and death to wildlife. Little was know about the abundance of microplastics within sediments along the south shore of Long Island and the Great South Bay — until now.

Leanna Balestra spent the summer of 2019 as a Water Quality Conservation Intern for Seatuck Environmental Association, collecting and evaluating the microplastic content of beach sand samples. She brought her intense interest, dedication and previous experience at Griffith University of Australia with her. In addition, Leanna was awarded two grants, covering both her stipend and lab supplies. She has since gradated from SUNY ESF.

Leanna sampled beach sand from key locations on Fire Island and the south shore of Long Island, including Davis Park Beach, Corey Beach and Talisman Beach. She modified a basic density separation technique for optimal microplastic extraction and quantified her yield by "spiking" samples with distinctive blue micro-flecks then examining the recovery efficiency.

Leannas poster was destined for a number of educational conferences including the National Park Service Fire Island Science Research Conference however the Conference was postponed due to Covid-19.

Click here to download Leanna's poster.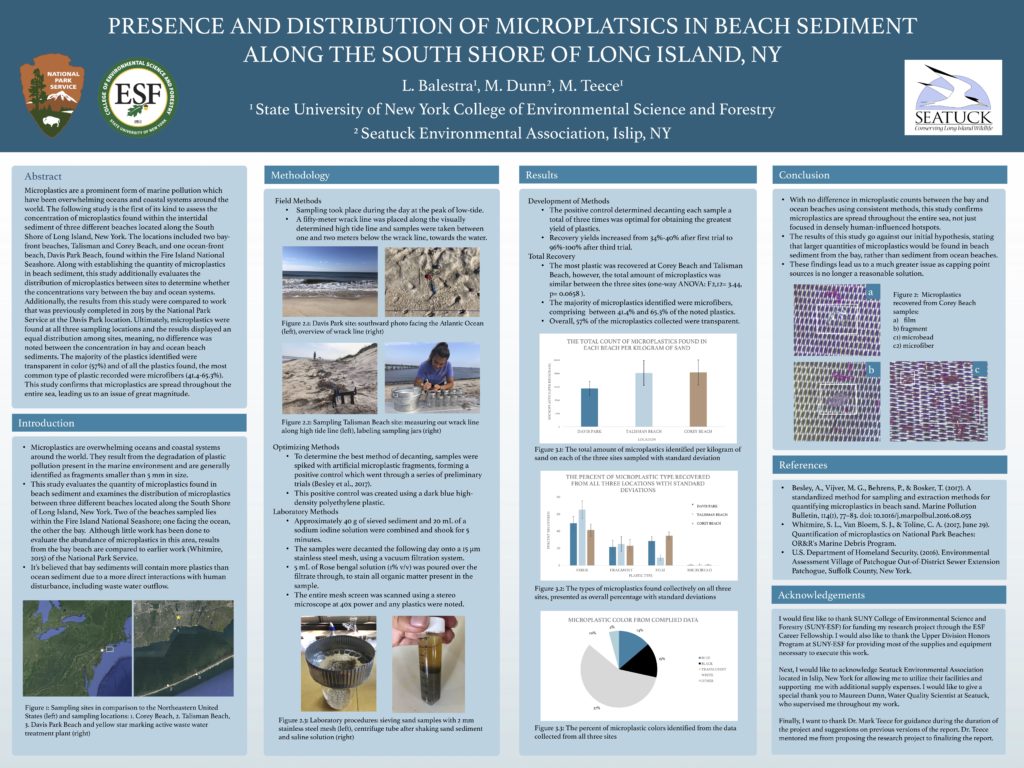 Intern Research: Microplastics