Request for Qualifications


(revised as of 5/5/2023)

Road - Stream and Tidal Crossing
Prioritization Tool: Expansion Project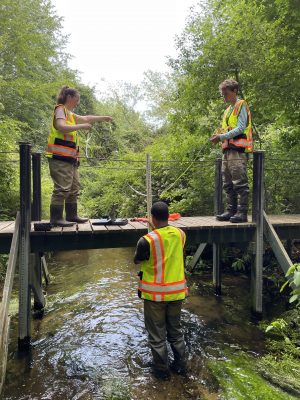 Seatuck Environmental Association (Seatuck) and Save the Sound (STS) are undertaking separate but parallel two-year projects to assess the condition, size, and suitability for wildlife passage of existing culverts in key watersheds in Nassau County (Seatuck) and Westchester County (STS), New York. 
The goal of these assessments is to prioritize the replacement of damaged or undersized culverts with wildlife- and climate-friendly structures that facilitate wildlife movement, restore stream continuity, and improve the ecological health and sustainability of our coastal waterways. 
The Nature Conservancy in New York (TNC) conducted a similar assessment in Suffolk County, and produced the Road-Stream and Tidal Crossing Prioritization Tool. Through these current projects, it is Seatuck and STS's goal to incorporate Nassau and Westchester County data into a tool for the region that is based on TNC's tool.
* REVISED TIMELINE AS OF 5/5/2023*
Ad Date: May 5, 2023
Proposal Due Date: May 19, 2023 by 5:00pm EST time
Tentative Award Selection: May 31, 2023
Contract Award: June 7, 2023
Seatuck Project Completion: October 31, 2023
Save the Sound Project Completion: July 31, 2024